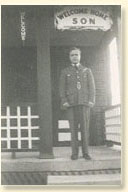 Welcome Home for Warrant officer Class 2 J.R. Hutchinson
Life on the Homefront: Veterans and Veterans' Programmes
Canadians who had served in the military during the First World War had a tough time after they returned home. The government had prepared well for their care, with generous pensions, land schemes and insurance policies, but the veterans got lost in the shuffle and before long the government was questioning closely every claim they made for help.
Never again, said Canadians and their government. In June 1944 the government created the Department of Veterans Affairs to deal with all matters affecting veterans and their dependents, principally medical treatment; rehabilitation of the disabled (which included special veterans' hospitals); education; insurance; welfare; allowances, pensions and loans; and land settlement and housing. The Department was at its busiest in 1947 dealing with returned service people. It is still responsible for Canada's war veterans.
Under the Veterans' Land Act, 1942, over 140,000 veterans sought grants and loans to become full-time farmers, smallholders or commercial fishermen. The Act was also used to purchase kitchen stoves, refrigerators and washing machines for post-war households. Both the Act and Wartime Housing Limited, a Crown company begun in 1941, provided inexpensive, sturdy and permanent houses for returning veterans and the families of those killed in the war.
Veterans' programmes enabled some 50,000 young people to attend university, crowding institutions right across the country; late in the war, universities had had only about that number of students all told. Temporary campuses, sometimes using abandoned wartime factories or prefabricated barracks, were used to accommodate the veteran-students. Carleton University in Ottawa was created mainly to educate veterans.
Related Newspaper Articles
English Articles
French Articles