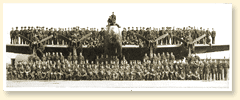 Personnel of 415 Squadron, RCAF, with one of the unit's Handley-Page Halifax heavy bombers, East-Moor, Yorkshire, England 1944-1945
The Canadian Armed Forces: The Royal Canadian Air Force (RCAF)
The ran the vital British Commonwealth Air Training Plan, but it also sent nearly 94,000 personnel overseas, and played a major role in the Battle of the Atlantic. More than half of its wartime aircrew served in , but there were also 48 overseas; they made their most significant contributions in the high-intensity operations over North-West Europe. Canadian bomber formed no. 6 , Bomber Command, of the . Fighter served in Canadian , especially in no. 83 , 2nd Tactical , for the Normandy invasion and the liberation of Europe. No. 417 flew fighters in North Africa and the Mediterranean, while three bomber operated from North Africa.
Two transport and a maritime patrol were in the South East Asia . 51 served in North America, although a number of these later went overseas. Many were part of the antisubmarine campaign in the Atlantic, flying from bases on the East Coast, in Newfoundland (not yet then a part of Canada) or Iceland. Both fighter and maritime patrol flew in the Aleutians campaign of 1942-1943.
The wartime total enlistment of the was nearly 250,000 men and women. It had had a meagre pre-war regular strength of 3,048, with 270 aircraft of 23 types, nearly all of them already obsolete.
Related Newspaper Articles
English Articles
French Articles