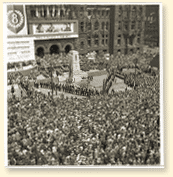 VE Day celebrations in Toronto, Ont., May 1945.
Photo : National Film Board
VE Day, 8 May 1945
On April 30, 1945, Hitler committed suicide. On May 5, German forces in North-West Europe surrendered. Victory in Europe, or VE, Day was officially celebrated three days later.
In Germany, where the Canadian fought right to the last day, soldiers were too relieved to celebrate very much. In Paris and London, Canadians joined people in the streets in an outpouring of emotion. In Toronto, thousands danced in the streets while three Mosquito aircraft dropped overhead.
Most Canadian cities and towns held religious services of thanksgiving. Frustrations built up after years of wartime controls and rationing led to riots and looting in some places, but nowhere else on the scale of those in Halifax ( see The Halifax VE Day Riots ). The war was not yet over - the war with Japan was still underway - but the major threat of Nazi Germany had ended.
Related Newspaper Articles
English Articles
French Articles