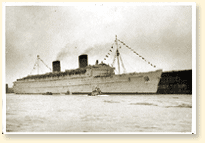 Passenger liner RMS Queen Elizabeth docks in Halifax with returning troops
The Canadian Armed Forces: Demobilization
As the war drew to a close, members of all the armed forces of the wanted nothing so much as to shed their uniforms, and fast. But there was not enough shipping available to bring Allied troops from all over the world as quickly as they wished.
Both the and the Canadian concocted complicated systems for deciding when their members could "demob" - get out and get home. Length of service, marital status and peacetime job were all part of the mix, and those who volunteered for further duty in the war against Japan were told that they could home before anyone else. The general rule, though, was "First In - First Out." Units which had trained and fought together were not necessarily to stay together for the trip back to Canada, although some did. The Irish Regiment of Canada, memorably, came home to parade a last time in Toronto. Some squadrons intended for the Pacific war flew their Lancaster bombers back to Canada.
3rd Canadian Infantry Division, by then made up of men with low priority for returning home, was part of the occupation force in Germany until the spring of 1946. After VE Day, both transport and bomber squadrons of the carried food supplies to the starving Dutch population ( see The Liberation of the Netherlands, 1944-1945 ) and brought freed Allied prisoners of war and returning servicemen to Britain. A strike among RCAF groundcrew impatient to be back in Canada made people at home suddenly aware that some Canadian squadrons were still in England in 1946.
Equipment, like service personnel, had to be demobilized. Aircraft of the were sold for civilian use, recycled or even piled up and burned. Armoured vehicles sold overseas became agricultural or construction machinery. The 's multitude of small escort vessels were sold off or recycled as scrap metal; a few of the best went into storage.
Related Newspaper Articles
English Articles
French Articles