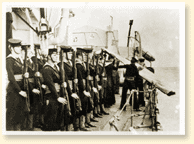 Burial at sea of an RCN sailor killed in HMCS Assiniboine during an action in which the Canadian destroyer sank the German submarine U-210
The Canadian Armed Forces: Casualties
42,042 men and women of Canada's armed forces died during the war : 22,917 in the Canadian , 17,101 in the and 2,024 in the . 54,414 were wounded and 8,995 taken prisoner.
There were awful losses at Hong Kong, December 1941, and at Dieppe in August 1942, but the Canadian did not feel the sustained pressure of casualties until 1944 when the hard-slogging advances north up the Italian peninsula and in the Normandy beachhead led to far greater infantry casualties than were ever anticipated. By late 1944, many infantry companies, normally each over a hundred strong, were down to thirty riflemen. These heavy casualties were a major factor in the government decision to send conscripts overseas ( see Conscription ).
Large numbers of Canadians were lost in the bomber offensive against Germany. Particularly in the air battles of the Ruhr, 1943, and in the battle of Berlin during the winter of 1943-1944, aircrew were lost at a rate faster than the training system could replace them in the short term. These heavy losses were only stemmed when Bomber Command, preparing for the Normandy Campaign, moved to closer targets in occupied France, meaning shorter flights and fewer German defences.
Related Newspaper Articles
English Articles
French Articles