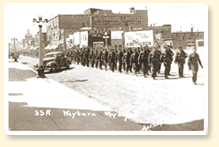 The South Saskatchewan Regiment parades in Weyburn, Sask., May 22, 1940.
The war changed Canada. It became a rich industrial nation producing aircraft, ships, weapons, vehicles, and food not only for the national war effort but also for the country's . The state stepped into the lives of Canadians as never before, and those in government thought seriously about a system of benefits - a welfare state - to ensure the health and wellbeing of all citizens. The world, too, looked a different place now, and not necessarily a safer place, and at war's end Canadians looked outwards to co-operation with other countries for peace and security. Canada did not like Britain any less, and particularly admired its heroic struggle under Winston Churchill, but British power was declining. Canadians now thought of the United States as their best friend and main protector.
Canada's military contribution to the war was more varied than in the First World War, and was strong everywhere, on the land and sea and in the air. In Canada it included the cross-country British Commonwealth Air Training Plan (BCATP) and naval, military and air operations in North America against German in the Gulf of St. Lawrence and the Japanese invasion of the Aleutian island chain. Overseas, Canadians fought in the Battle of the Atlantic, the bombing campaign over German cities and the freeing of western Europe from German occupation.
In the Hamilton Spectator and other newspapers represented in this collection, the war was seen as a struggle to save Britain, the mother country of so many Canadians, from being wiped off the map. That meant, for urban eastern Canadians, the making of every necessary sacrifice to win the war. Many Canadians elsewhere were just as committed to victory, but concerned about keeping the country together as well. The main dividing point, as in the First World War, came over conscription, or compulsory military service. The cry for conscription from people like those who read the Spectator, and the opposition to it from francophone Quebec and in parts of western Canada, tested every one of the skills of Prime Minister Mackenzie King, the supreme juggler of Canadian politics. The greatest achievement of a long political career was keeping Canada united in the Second World War.
Related Newspaper Articles
English Articles