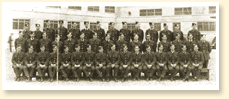 Trainees at the Technical Training School, St. Thomas, Ont.
The Canadian Armed Forces: The British Commonwealth Air Training Plan (BCATP)
The 'aerodrome of democracy'! So United States President Franklin D. Roosevelt described Canada's role as the trainer of 131,533 pilots and aircrew for the Allied war effort. This was done under the British Commonwealth Air Training Plan, an agreement signed in December 1939 by Canada, Britain, Australia and New Zealand to train aircrew in Canada. Nearly half of the pilots, navigators, bomb aimers, air gunners, wireless operators and flight engineers employed in all the Commonwealth during the war were trained under the .
Canada's big open spaces and good climate for flying made it an ideal choice for large-scale flying training, which began on April 29, 1940. The program greatly expanded after the fall of France ( see The German Invasion of Western Europe ) when, fearful of a German invasion of Britain, the moved a number of its training schools to Canada. At the Plan's peak in late 1943, it operated 107 schools and 184 other supporting units at 231 locations all across Canada. Individual Canadians helped through their flying clubs and commercial aviation companies, which ran many of the schools.
72,835 of the graduates were Canadians. The rest came not only from Britain and the other original Plan members, but also included Americans, trainees from other Commonwealth countries and from the of the countries of occupied Europe.
Related Newspaper Articles
English Articles
French Articles