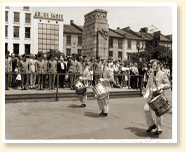 Victory Loan Parade Hamilton Ont., 1942
R.C.A.F. Photograph
Life on the Homefront: Hamilton, Ontario, a City at War
Hamilton was a city of 155,000 in 1939. It grew to 174,000 by 1945, chiefly because of the rush of workers into war industries.
The city had always been an industrial centre. After the doldrums of the Depression, there were some 35,000 workers in the eight largest industries; by September 1942, there were more than 60,000. In addition to the heavy industry of steel-making, plants concentrated on war materiel. National Steel Car Corporation not only produced artillery shells, but also manufactured forgings and parts for tanks and military vehicles. Firestone Tire and Rubber made self-sealing fuel cells for aircraft and hard rubber tires for tank suspensions, in addition to automotive and aircraft tires.
The city contributed heavily to the armed forces. Two local infantry and two artillery field batteries, along with other local units, fought in Italy and North West Europe. As it had during the First World War, the 40th Field mobilized right in the Hamilton Spectator offices; it was led by one of the newspaper's editors. Many Hamilton residents served with other units or with the or . Dieppe, where the Royal Hamilton Light Infantry was in thick of the fighting and suffered huge losses, was the greatest single war tragedy for the city. ( see Dieppe Raid, 19 August 1942 ).
There was also military activity in and around the city. The Hamilton Flying Club managed a elementary flying training school. It originally operated at nearby Mount Hope, until that airport was taken over for the heavier aircraft of No. 33 Air Navigation School in 1941. HMCS Star, Hamilton's prewar Royal Canadian Navy Volunteer Reserve unit, became a wartime barracks to train navy personnel.
Stories about the activities of the city's military units and its war industries, and of Hamiltonians overseas, make up a large part of the Spectator clippings in the collection.
Related Newspaper Articles
English Articles