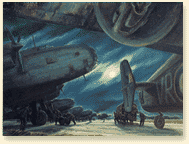 "Marshalling of the Hallies." Painted in 1947 by Paul Goranson (1911-).
Handley-Page Halifax heavy bombers prepare for take-off on one of their countless night-time raids over Germany.
The Beaverbrook Collection of War Art
The Bomber Offensive
After the fall of France in 1940, the British were left with few ways to strike back at Germany. One was the bombing of German cities, workers and industry. Because of the strong German fighter defence, the 's bombers could operate only at night. At first, results were poor and losses of aircraft heavy. Through 1942 and 1943, however, new four-engined heavy bombers with much greater bomb loads, improved radio and radar aids to navigation and better training greatly improved Bomber Command's efficiency. It was always, though, a blunt, brutal weapon, killing large numbers of civilians and destroying their homes.
The heavy bombers of the U.S. Army reached England in 1942 and began to bomb Germany by day. The Americans went after individual industries using formations of heavily-armed bombers, and lost heavily to German day fighter attacks, particularly before they developed a long range escort fighter. In July 1943, a series of British and American raids created a firestorm which consumed the city of Hamburg, killing some 30,000 inhabitants, most of them women and children.
The bombing killed some 600,000 German civilians, but did not succeed in breaking their morale. German war production fell drastically only at the very end of the war. Forever gone, though, were many of the cultural treasures of Europe, works of art destroyed by Allied bombs.
RCAF bomber squadrons formed a major part of Bomber Command, and even more RCAF aircrew served in bomber squadrons. In January 1943 the squadrons were brought together to become No. 6 (RCAF) . In its first year of service, the suffered staggering losses, particularly in the long-range raids of the Battle of Berlin in the fall and winter of 1943-1944. In all, over 8,200 Canadian aircrew in Bomber Command died.
Related Newspaper Articles
English Articles
French Articles