Battles
Paardeberg
18-27 February 1900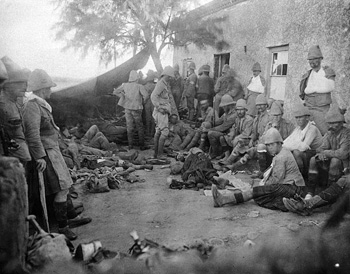 Field Hospital, Paardeberg, 19 February 1900, the second day of the battle. Most of the soldiers are British Gordon Highlanders, but some are from 2 RCRI.
On 18 February 1900, British forces began to besiege a Boer army commanded by General Piet Cronje at Paardeberg Drift on the banks of the Modder River (See map showing the position of the XIX Brigade on 18 February 1900). Among the attacking force were 31 officers and 866 other ranks of the 2nd (Special Service) Battalion, Royal Canadian Regiment of Infantry. This was the first major Canadian action of the South African War. The first day's assault was extremely bloody, with the Canadians suffering 18 dead and 60 wounded, their worst losses in a single day during the war. The British high command decided to wait out the surrounded Boers. (See map showing the position of the XIX Brigade on 20 February 1900)
Day by day, the British tightened their cordon around the Boer position until conditions seemed right to force a Boer surrender. On the night of 26-27 February, the Canadians were in the lead of a British attempt to seize a section of the Boer trenches by a surprise attack. At 2:00 a.m. on 27 February, the Canadians cautiously advanced in two ranks towards the Boer lines less than half a kilometre away. They had nearly reached the enemy trenches when they ran into a trip-wire and came under heavy rifle fire. The front rank returned the Boer fire while their comrades began to hack trenches out of the hard-baked earth. Suddenly, someone called out "Retire". Men began to drop back, confusion set in, and most of the battalion returned to the start line. Only "G" and "H" Companies from the Maritimes held firm and poured fire into the Boer positions. It was not much, but it was enough to convince Cronje that his position was untenable. He surrendered later that morning. (See map showing the Area of General Pieter Arnoldus Cronje's Laager and the position of the XIX Brigade on 27 February 1900 when General Cronje's forces surrendered)
Over four thousand men, or nearly ten percent of the Boer army, surrendered. It was the first significant British victory of the war. The Royal Canadians received much of the credit. The victory provided a boost to the morale and confidence of the troops and to Canadian nationalism.