Canadian Wartime Propaganda
Second World War Propaganda Poster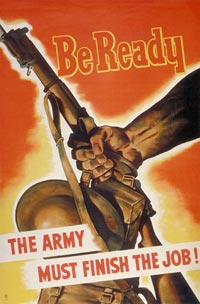 Be Ready, The Army Must Finish the Job!
This poster's language and imagery is particularly direct in the way it calls for new recruits: in essence, by handing them a gun.
The government standardized the content requirements of such posters in advance, but had them designed and produced by several different companies. Artists received between $50 and $250, sometimes in Victory Bonds, for their interpretations. Russel Taber, who designed this example, was an artist with Brigdens in Toronto, one of Canada's oldest graphic arts firms.
Designed by Russel Taber
Printer unknown
Published by the Wartime Information Board on behalf of the Department of National Defence
Commercial colour print, 1941-1942 Canada
CWM 19750317-041
<< Previous | Second World War index | Next >>